Once I have visited Sajama, I go to Tupiza by bus through a very beautiful valley, with cacti and acacias. We cross a very lively town called Cotagaita, where they have a "peach festival".
In Tupiza it is carnival and there's a great ambiance!

The next day I decided to go on a route following the digital maps I have and I can summarize it in five words: it is a goats route. I left town and a dog started following me. He was running up and down all the time, I called him "Loco" (crazy).
We passed through the "Devil's gate" and climbed through the "Devil's Canyon" and down another gorge. The truth is that it is a route not suitable for dogs, but in the end, we managed, and I bought Loco a piece of meat in the market to celebrate!
You can see the track of the route at the following link:
 https://ca.wikiloc.com/rutes-senderisme/ruta-circular-canon-del-diablo-97651644
Puerta del Diablo in Tupiza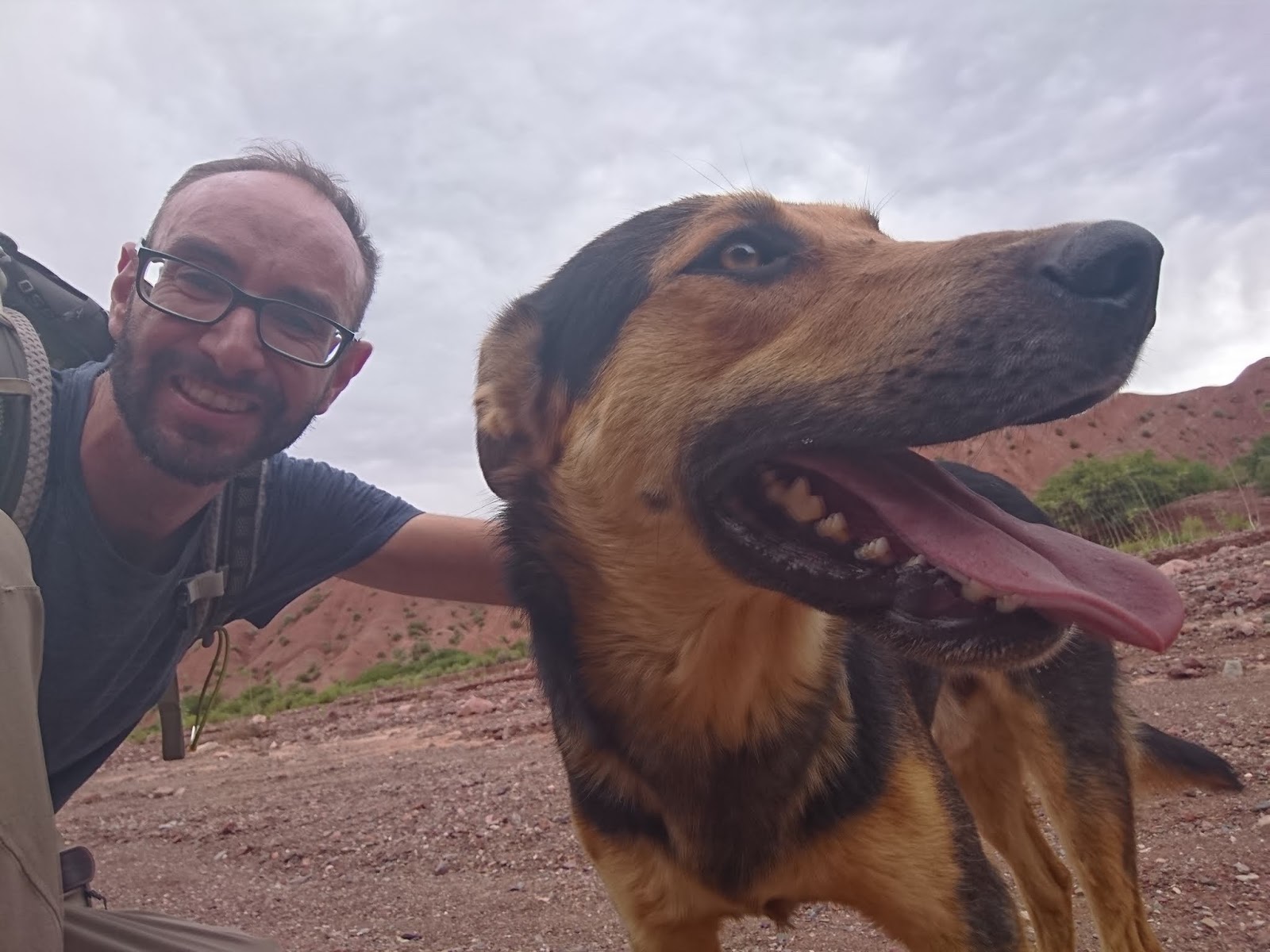 Uri and Loco
The Salty flats of Uyuni
The next day we started a 4-day 4×4 route through Sur Lipez and Uyuni. The group was very good: a couple from Italy, Elena and Antonio, and a French woman, Michelle.
If you do this route, here are two recommendations:
Find a tour that arrives at "sol de mañana" at dawn, to see the geyser at its maximum activity, from 30 to 50 meters. We arrived at noon and basically saw fumaroles.
Look where sleep in the Salar de Uyuni. In the rainy season there are accommodations on the edge of the salt flat, which becomes a mirror of the stars at night. There are also salt hotels inside the salar. We stayed in the town of Colchani, which is too far from the salt flat to enjoy the place at night. We couldn't go to Incawasi Island because the water level after the rains was still too high.
The tour was very good, but after 4 days I was tired of so much sitting! The tour from Uyuni lasts one day less and is cheaper, and what I saw on the first day was good but not essential.
Here are some photos of the incredible landscapes of Sur Lipez and the Salar de Uyuni!
Laguna Verde
Geysers in Sol de Mañana
Laguna Colorada
Flamingos in Laguna Colorada
Yovana prevents anyone from escaping from the Villa Mar carnival with a whip
Laguna Negra
Sunset in Uyuni
Jeeps and sunset in el Salar de Uyuni
Sunrise in salar de Uyuni
Going Zen Uyuni
Antonio and the smurfs in Uyuni
Jumping in Uyuni
Great team in uyuni
greetings!