With Aline, Sophie and Michelle we decided to go on an excursion to Sajama, a region with volcanoes that borders Chile, about 300 km away from La Paz.
Here you can find a map of the route in Sajama and a video of this excursion! Below you can find more detailed hike information.
You can find the track of the hike here:  https://ca.wikiloc.com/rutes-senderisme/ruta-circular-por-la-zona-del-sajama-97639237
Summary video of the Sajama route:
Prepping the excursion and trip to Sajama from La Paz
We bought food in the supermarket in La Paz (in Sajama the shops do not have much variety, although they do have things) and we took a bus from Alto to Oruro to descend half way the trip. The objective was to arrive in Patacamaya before 13:30, which is the time when the only bus to Sajama leaves from "su tienda amiga capítol".
The bus trip landscape to Sajama is very desolate, with strange sedimentary rock formations and llamas and alpacas grazing amid triangular bushes. Trucks loaded with gasoline and empty containers that go to the port of Arica, in Chile, overtake us at full speed.
We arrive in the town of Sajama, at 4240 meters, and admire the surrounding snow-capped volcanoes: the Sajama volcano, at 6542 meters, is the highest mountain in Bolivia, and the Parinacota (6319 meters) and the Pomerape (6282 meters) that border with Chile are also impressive. The little town has 4 streets with a couple of shops, a school, many children and several hostels.
Day 1 (From Sajama to Sora Pata lake, 15 km, +700 meters)
We get up at 3.30, have a little breakfast and head out towards the geysers, 8 km from the town. We cross a small community and the sun rises while we cross herds with hundreds of llamas and alpacas, spectacular!
The geysers are rather rafts of boiling water and fumaroles, with very different colors and sounds, a very beautiful place. They tell us that they change over time and that from time to time, a more powerful geyser appears.
We continue climbing until we reach the border with Chile, where we will stay until tomorrow morning. We skirt the Casiri lake and go up to Sora pata lake, at 4920 meters, where we camp. It is full of animals: watercocks, ducks, "vizcachas" (a larger "squirrel" species that lives on rocks).
The night is clear and full of stars. We are lucky that it is the rainy season and it is not very cold, and we sleep around zero degrees.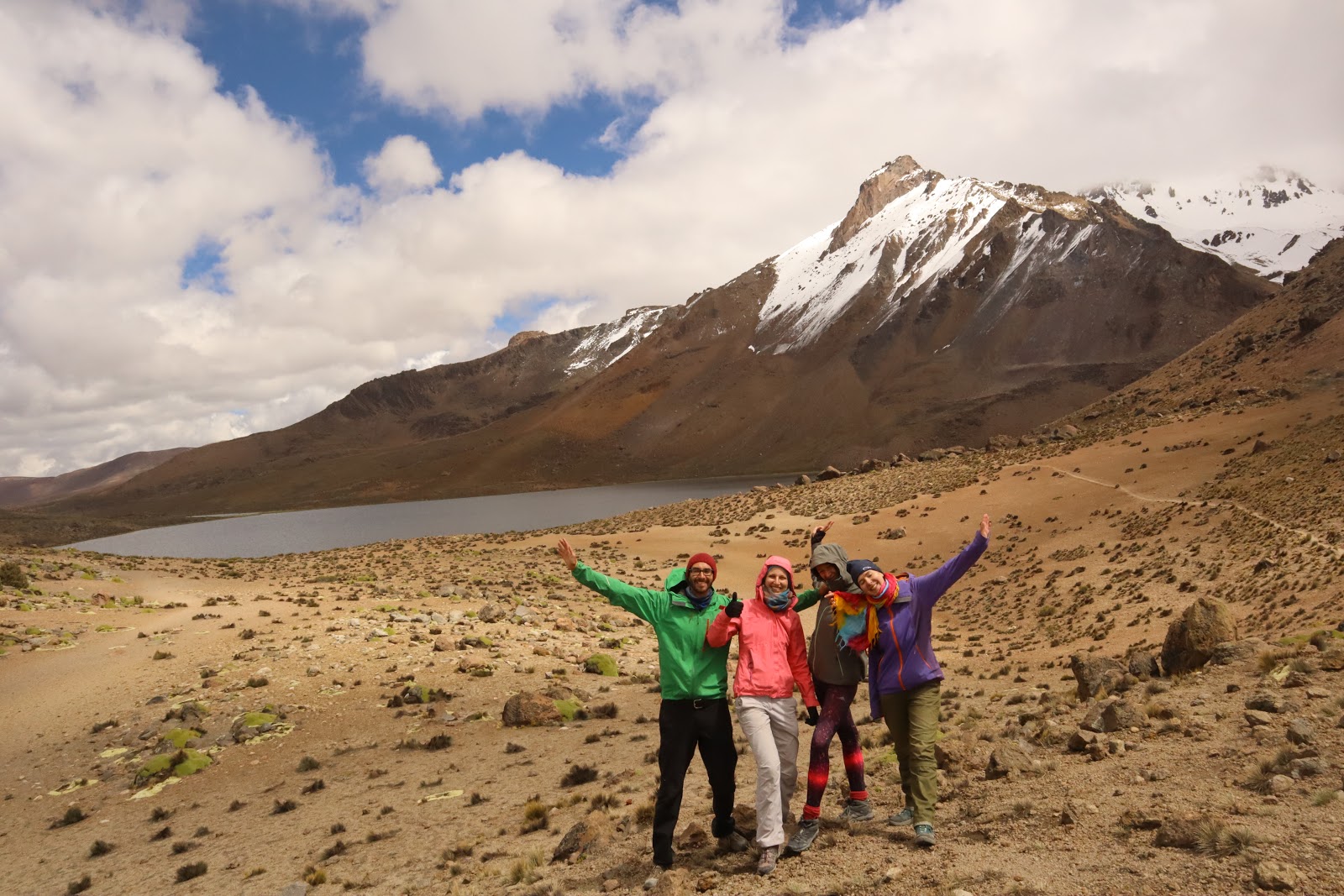 On the border between Chile and Bolivia with Lake Casiri in the background
Moonlit and starry night
Day 2 (from Sora Pata to the Pacovito hot springs, 14 km, + 100m, – 700 m)
We get up quietly and have breakfast listening to the noise of the birds of the lake. We go up the valley until we reached 5043 meters to enter Bolivia again and see Chiara Kkota Lake.
From there we go down a valley with "queñuas", a red bark and hardwood tree shaped like a bonsai. Long ago all these plains and valleys were full of queñuas, but they were cut to make coal for work in the mines and now are being reintroduced.
We arrive in the town of Kasilla and continue straight until we reach the yellow building of the Pacovito hot springs.
These hot springs are wonderful: we recover in the water contemplating the Sajama as it gets dark. Above us, millions of stars in the Milky Way, impressive!
Sora Pata Lake
View of Sora Pata lake and Pomerape in the background, from the  Chilean side
The descent towards Pacovito with Sajama in the background
Hot springs in Pacovito
Day 3 (From Pacovito to Sajama, 6 km and flat)
Capitán, David y Aida
We start the day the best way: watching the sun rise from inside the hot springs. We are joined by Aida and David. They lived in La Paz, but when their mother left to occupy a position in the town of Curahuara, they decided to take care of the hot springs.
They are very nice and talk with us about plenty of things. David worked for a while in California in cattle farming and now they own herds of alpacas and llamas and also have projects to produce trout. For a while, David was a guide and climbed the mountains with tourist, and they even organized a football game up in Sajama and lost 12 balls! Aida makes bread with queñuas wood, and she values ​​the style of life in this place. David works also as a truck driver from Arica to La Paz. Later he takes us by car to Huanyacota, where there are flamingos some times of the year, but we don't see them.
We return to the town satisfied with a great excursion through a truly spectacular region. To be honest, Sophie and Michelle walk into town, and Aline and I hitchhike and arrive in a blink of an eye.
We enjoy the last dinner eating soup and alpaca with pasta with French tourists. All the tourist I have come across in the village are French and I don't understand what they say at all, but I had a great time! I will have to return sometime from May to October to climb volcanoes (dry season: less risk of avalanches and also colder at night). There are several local guides who organize the climb to the Sajama volcano.
The next day we get up at 5 and go to the plaza to catch the only bus back to Patacamaya, at 5.30. There are a lot of people and by miracle we all manage to get into the minibus, locals and gringos.
Yep Yep Yep