Epic adventure to go from Cusco to Pilcopata by mountain bike!
One of the fascinating things about Peru is that it has a variety of incredible ecosystems: desert, jungle, mountain, beach, humid forest, dry forest …
From March 6 to 11, I went with Guillermo and Quinnen from Cusco, in the Sierra (Andes), to Pilcopata, in the Manu National Park, one of the entrances to the Amazon jungle.
A good six-day adventure that you can see in the video below. I hope you enjoy it! We had a great time!
Data sheet
Link to the gpx track
Distance and elevation: 204,3 km (+4061m, -6952m)
Duration: 6 días


Day 1: 

from

Cusco to Pisac (30 km, +466m,-844m)




Day 2: 

from

Pisac to Chaquicocha (23 km, with epic climb pushing the bike included, +1388m, -113m).




Day 3:

from

Chaquicocha to Paucartambo, via Llaqtapampa and Toccra (45 km, +504m, -1585m)




Day 4:

from

Paucartambo to Ceja de Selva through Tres Cruces (70 km, +1550, -2795m)




Day 5:

from

Ceja de Selva to Pilcopata (30 km, +207m, -1171m)




Day 6:

return to Cusco by Bus.
Difficulty: difficult because of the altitude and the rainy conditions.
Material: Bicycle, tent, saddlebags, sleeping bag, stove
Below you can see a map and the elevation of the route: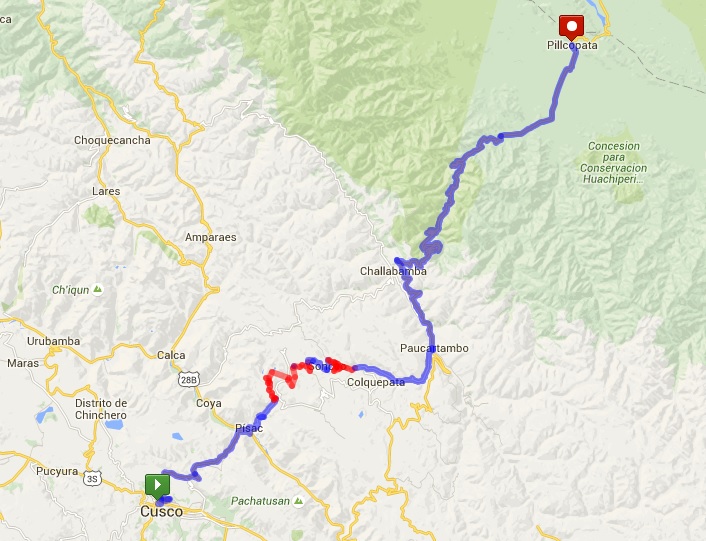 And some pictures!