I arrive in Cartagena and meet my friend Alejo, and we explore the city. It reminds me quite of Cádiz, with its perimeter that overlooks the sea and narrow, squared streets, with squares like La Trinidad, full of life, especially at night, perfect for drinking "piña coladas" and "mojitos".
It is a quite touristy city, but with charm, since it has many interesting places, such as the café Coroncoro where you can have fish soup for breakfast surrounded by "coastal people", policemen and some foreigners, or eat ceviche under a giant rubber tree, where there are stalls where they prepare it with tomatoes and a lot of bottles with various ingredients, such as celery.

We go up to explore the San Felipe Fortress, the site of an interesting battle between the Spanish and the pirate Drake. From here you can see the new part of Cartagena, where most of the people live. Someone recommends that we go to the Popa neighborhood to see a more popular neighborhood, but in the end, we don't go.
The Totumo "volcano"
Next day we take a bus in Cabrero neighborhood which takes us north to a few kilometers beyond Lomita Arena, where we ask to be dropped off. From there we walked a kilometer to reach the little "volcán" de Totumo, in the middle of a lake and mangroves. From the interior of the earth comes thermal heat and a very dense mud that does not allow you to sink, a very strange feeling that we enjoy surrounded by a grandmother from Barranquilla who wants to rejuvenate and a few children who are amazed, just like us.

Palomino and Cabo de la Vela
The next day we go north to Palomino, a very touristy and partying coastal town, where we go down the river in a tire. It is very relaxing due to the current that is mild and the birds and exuberant vegetation that we see on the banks of the river. The mouth is a delight, with children playing, the sea and some beach bars where we eat ceviche and "patacón" (fried ripe banana).
A day later, we traveled for 5 hours north, in a bus with a preacher and street vendors included, to reach Cabo de la Vela, in La Guajira.
The town has its charm, surrounded by beaches, cliffs and deserts, where the Waius live. Some work in tourism, but most live in isolated villages, where they have "chivos" (goats) and basic crops.
In the morning people go to the sea with buckets of water that they take to the houses to shower and to use in the toilets. Rosa and Yazira sell us "tinto", coffee with a lot of sugar, and we discover fruit juices unknown until now, such as "lulo" or "sapote".
As all the electricity is made with a generator, they convince us to buy two and a half liters of gasoline to be able to watch the Barça-Athletic King's Cup match, which we see in the bar with the town boys.
Sunset in Cabo de la Vela
We go walking to visit the lighthouse, the "ojo de agua"  and the "pan de azúcar", with good views and tourists from Bogotá who want to take photos with us.
Views from Pan de Azúcar
Sleeping in a hammock is not as easy as it seems
We also learn to sleep in a hammock, it is not as easy as it sounds! Because of the position, the early morning cold and especially because of the Colombians on vacation who open the trunk of their car where they have powerful speakers that spit out "vallenato" and "reggeaton" and turn the campsite into a disco in no time!
Adventure towards Punta Gallinas
The next day we leave when it is still dark to go to Punta Gallinas, the northernmost point of South America. You must go on a tour, since you can only get there by 4×4, crossing the desert and muddy areas. We meet Andrea and Caro who accompany us on the adventure.
Waiu girl trying to collect tolls
Waiu children make rope tolls, which they put down in exchange for some fruits or cookies, and they also sell watermelons, shells and shrimps. Some Colombians tell us that companies that extract coal from the area have diverted the river, causing many towns to run out of what little water they had.
We arrive at Punta Gallinas and then we explore the dunes and the beach of Taroa, places of great beauty due to the contrast between the desert and the blue of the sea.
Punta Gallinas is the northernmost point of South America, totally different from Cabo Froward, the southernmost point of continental land, in my adventure 2 years ago. The similarity is that they are two very authentic places with beautiful nature.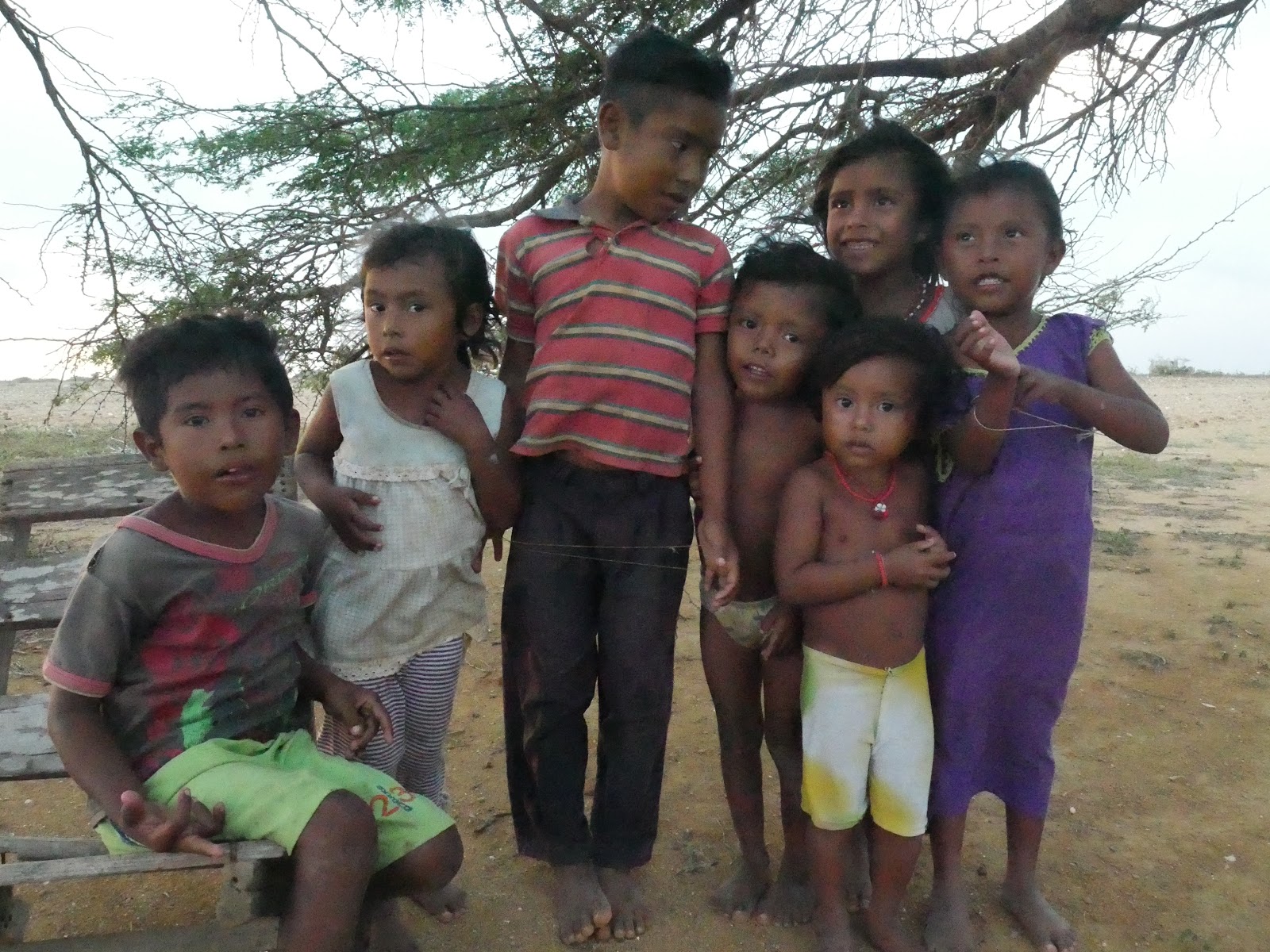 Waius children in Punta Gallinas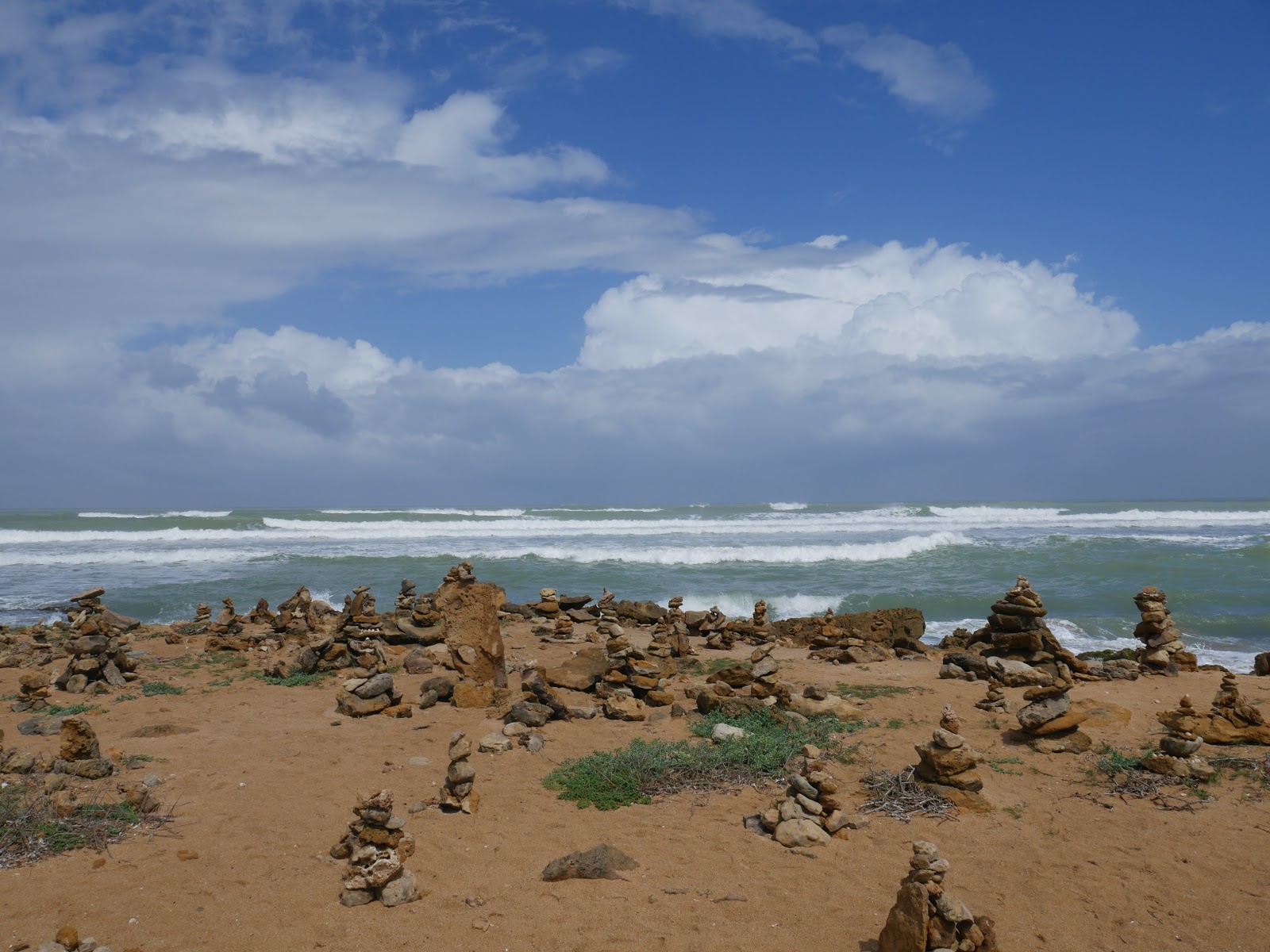 Punta Gallinas
The next day we head south and Eulyses, our driver, rescues several vehicles trapped in the mud.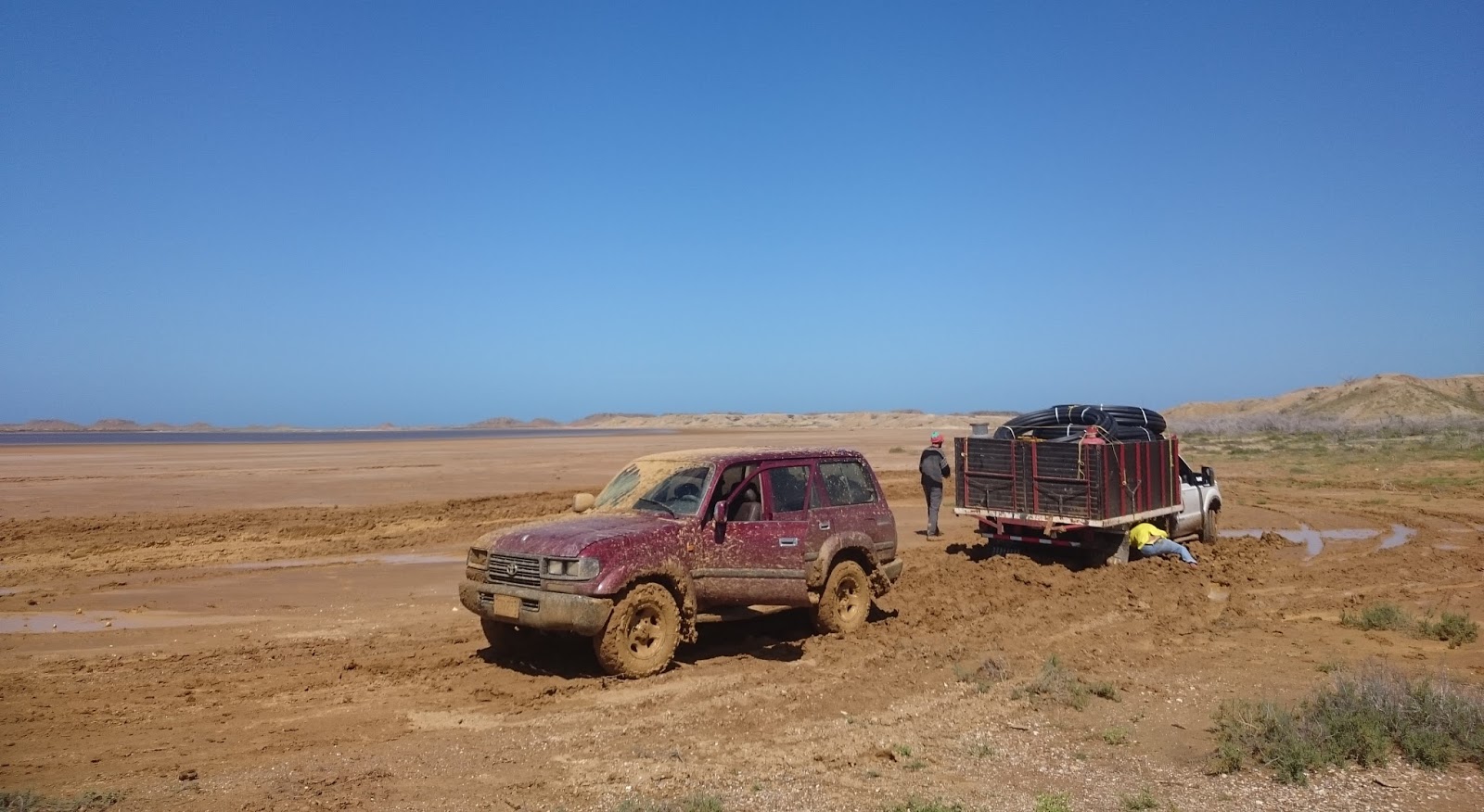 Rescue of cars stranded in La Guajira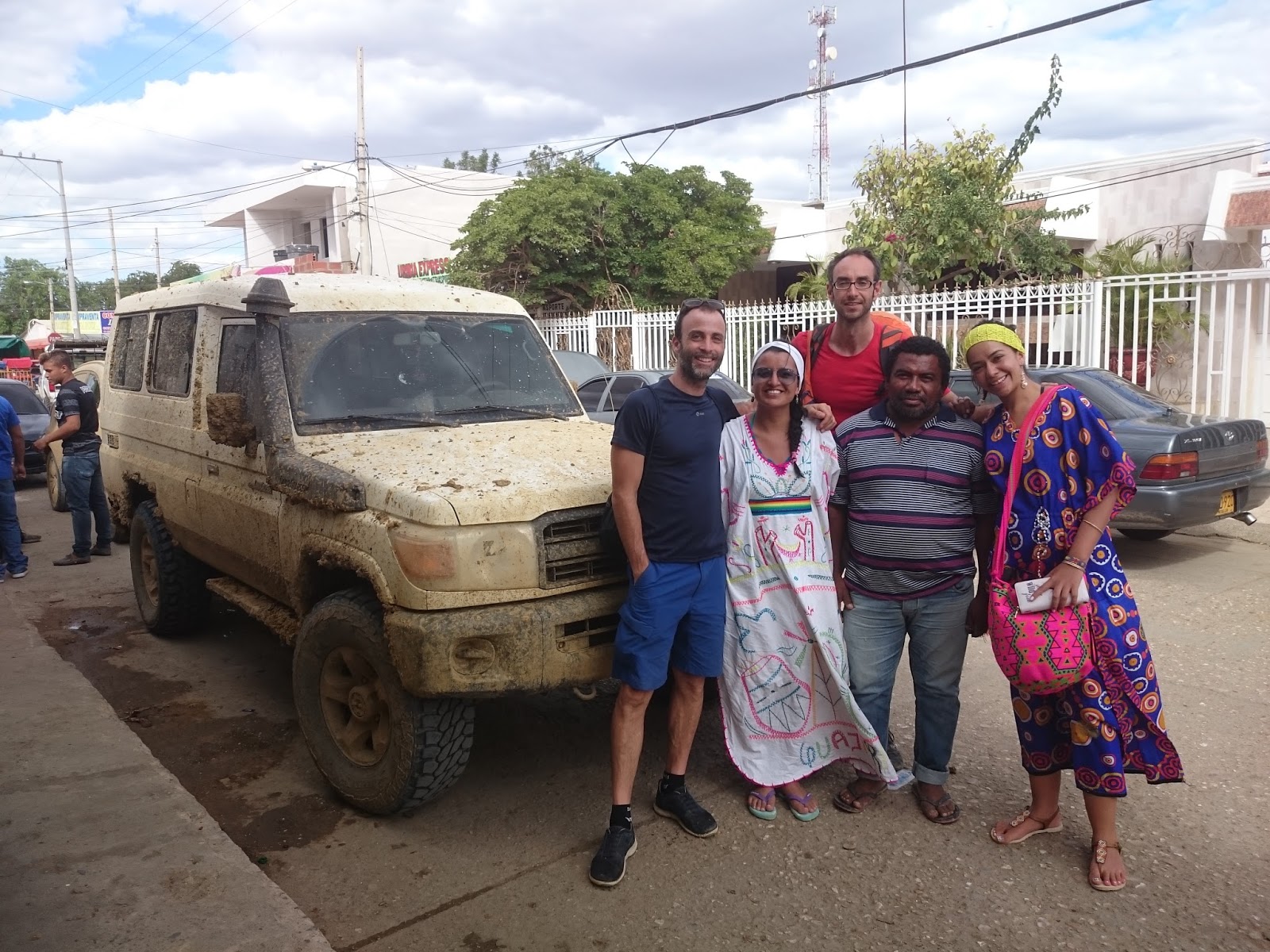 Eulyses brings us safely to destination with his Super Jeep
We arrive at Río Hacha, a quiet and cozy town with people who take the fresh air in chairs in the street and mostly local tourism, where we celebrate with Carol and Andrea this great excursion, eating in "la casa del marisco".